, , , , , , , , ,
Spielt gerade: GT&FM | 60fps FTW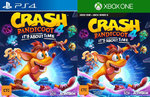 Genre: Jump 'n' Run
Publisher: Activision
Entwickler: Toys for Bob
Framerate: 60fps - wenn die Trailer stimmen
Auflösung: ?
Anzahl der Spieler: 1
Plattformen: PS4, XB1
Release: 2.10.2020
https://www.crashbandicoot.com/crash4
Crash is relaxing and exploring his island in his time, 1998, when he finds a mysterious mask hidden away in a cave, Lani-Loli. The mask is one of the Quantum Masks and apparently knows Aku-Aku, Crash's mask friend! With the Quantum Masks returning and a Quantum Rift appearing near our heroes, they decide to bravely head through to different times and dimensions to stop whoever is responsible.
Crash Bandicoot 4: It's About Time geleakt
Nach dem Erfolg der Remastersammlung mit Teil 1-3 wird nun wohl ein Teil "4" erscheinen.
Die "4" ist nur Marketing, denn nach Teil 3 erschienen zahlreiche weitere Titel. Diese wurden jedoch nicht von Naughty Dog entwickelt, genausowenig wie der neue Teil, den entwickelt "Toys for Bob".
Update:
Offizieller Grund: Spielt nach Teil 3.
https://www.gematsu.com/2020/06/crash-bandicoot-4-its-about-time-rated-for-ps4-xbox-one-in-taiwan
Zuletzt editiert: